Luce Bree plays versatile sets with danceable influences that were found while surfing on the deep grooves of the internet, but mainly when visiting record shops to dig in vinyl crates. He fuels Rotterdam' venues with energy through his soulful finds. This is showcased in his monthly Operator radioshow Diggin' Deeper, in which different genres overlap and actualities are tapped upon with sharp and relevant selections. 

To get to know the artist that will treat your senses at Worm during our first Kickback Session, we asked Luce Bree some questions about Rotterdam and his musical journey. 
---
What is your favorite dish?
Damn starting off with a tough question right away. I'd have to go with saoto soup from Warung Gareng in Delfshaven. 
What are your thoughts on Rotterdam nightlife? 
I feel very fortunate to have played in most of the clubs our city has to offer and meet some of the amazing faces behind it. I think that we currently have quite a diverse selection of places to go to for some night-time dancing. However, BAR has left a huge gap; I really miss that place! Besides that I'd really love some smaller capacity venues with a maximum of 50/100 people that blur the lines between a bar and a club. A place where you can hang back, grab a drink, but also get some dance-floor action later at night.
What is the first record you ever bought? 
My Beautiful Dark Twisted Fantasy by Kanye West.
I bought this record at Plaatboef in de Nieuwe Binnenweg around 8 years ago. I didn't even have a record player at the time. The collection of 3 LPs and 5 interchangeable front covers in combination with a poster of George Condo's iconic artwork for the album, makes it such a cool first record to me.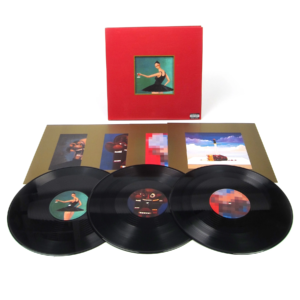 Imagine: a production company wants to make an autobiographical of your life to this point. What will be the soundtrack? Why? 
I have my own playlist that I use when strolling through the city; I dwell away on the tracks and feel like I'm in a movie myself. But if I have to pick one, then it's Radar Love by Golden Earring. I have very fond memories dancing and playing the air guitar to this together with my younger brother and parents. To me, it's the perfect road-trip song! Take a walk through the city, blast this tune and imagine yourself cruisin' in an old convertible with the sun shining down on your face. 
Which record do you bring to every gig? Why? 
The record I bring to every gig is this one. It's a 12 inch with Shake Your Body (Down To The Ground) and Walk Right Now by The Jacksons. Both of the tracks are edited and extended by the legendary John Luongo and will bring guaranteed smiles on the dancefloor no matter how big or small. 
What is your best nightlife memory? 
Hard to choose one but the Zeezout Pink Wednesday party in Brebl last year with Detroit Swindle playing all night long in the downstairs room was crazy. Around 5:30 in the morning they played an unreleased edit of Don't Know Why I Love You by Thelma Houston while the sun slowly started to burst through the windows and onto the dancefloor, that shit was wonderful. 
At what point in your life did you find out that music was gonna play such a big part?
I don't think there was one moment where I found out that it'd be such a big part of my life. I just think I gradually got more into it: I started listening to more different genres, bought more records, met more inspiring people. And now, I can't think of ever living without it. 
---
Final tickets for our session with Arp Frique & Luce Bree are still available on our website.
Both artists will play a two hour set in a jazzclub inspired setting.