Searching for connection is what defines humanity. We are looking to bond with people on a daily basis, and the night is without doubt a time and place where a connection is key for many. Clubs are places where we share a rhythm, groove, feeling, and dance floors are spaces that should be cherished for this exact reason.
Last November, at the first edition of BIT45, DTM Funk proved how soundscapes can accomplish this. Orchestrating the dancefloor from the minute he set foot behind the decks, boiling the crowd until the perfect temperature to play THAT last track. Take a read through this Behind The Decks with the Antwerp DJ to grasp how his vision and passion for music underlie his peak performance BIT debut:
You seemingly mix between different genres, being skilled enough to turn right when others might've gone left. You describe your own sound as 'Afrocentric' – what do you mean by this style?
I like (and as a DJ I think you should) to continuously immerse myself in music. For several years, it has struck me that my groove is based on a lot of African elements. And that most of the music I listen to at home originates in the African Diaspora. For me Afrocentric means a way of conveying music: looking for the connection in the room, exposing your soul.
Before coming up as DTM Funk, you organized dozens of parties in Antwerp. What are some of your fondest memories of these nights?
When I first booked Carista in 2015 and also AliA in 2014 at a small event in Antwerp, few had made such a positive impression on me. But actually, the nicest feeling I get from my own party is when I can feel that there are hundreds of individuals (plus the DJ) on the dance floor and that everyone is still one. I also always get a nice feeling when I have booked DJs or musicians in their early years and see them grow afterward, such as AliA, Carista, Suze Ijo, Jarreau Vandal, DJ Taye, Bibi Seck…
It's nice to be part of their process, even if it's only one percent. But you will never hear me say that I discovered them, they did it themselves!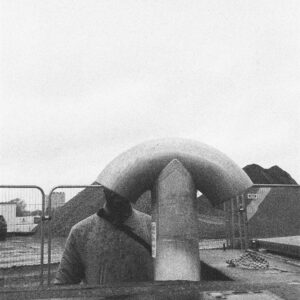 ---
Did these nights shape you in some way or another?
For sure, that is the reason I will keep doing this until I die or go deaf.
Your own record label is called San-kofa Rhythms Records, on which you released Black Gravity Rhythm Vol.001. How are releases on this label different from – for example – your club mixes?
In my mind, music is just music. But on the other hand, I want to make people listen to music with my label. Enabling them to find their own feeling and soul in every release.
You're a digger providing dancers with music from all over the world. What is your favorite most recent find?
I will use my joker (haha)!! Found 2 years ago in a record store. Was hesitant to get it for 30 minutes, because the pile of records was already big. Ended up not buying it in the end, but luckily a repress came out a few weeks ago.
Something you want to share with the dancers you always seem to find a connection with?
Fxck DJ's, don't make them superstars. It's all about the connection between dancers and the people playing the music.
Thanks David, until we meet again!