With great pleasure, we present to you our second installment of No Boundaries. A podcast series bringing you our favorite collectors and DJs from around the globe. Surpassing physical restraints, this series aims to represent the purest form of what Bound45 is; a celebration of sound.
This time we asked our friend, record collector, record dealer, and DJ Alex Paz to dive into his incredible collection and share some of his favorites. We met Alex via the world wide web when we bought some records from him a while ago. We stayed in touch and kept up with his ongoing musical journey. By intriguingly following his YouTube and Instagram accounts, Alex instantly became one of our favorite selectors of Brazillian music.
Alex's broad taste in music is displayed beautifully in this mix. Going through different genres and different eras, mister Paz shows the depth of his collection providing a perfect representation of Brazil's incredible musical landscape. Obrigado Alex!! Obrigado!!!
To get to know Alex a bit better, and gain a bit more context for his mix, we asked him some questions;
Let's talk a bit about your local scene first. How do you experience the local club/music scene in Rio de Janeiro?
Since 2018 I live in the countryside, 205 km from downtown Rio de Janeiro, but I still play in Rio. Before the pandemic, the Club scene in Rio was "slow", some Djs were producing parties, renting spaces, calling other Djs… So the scene has been around there after the pandemic… Here, where I live, Juiz de Fora, the scene is hotter, there are good places to play like Cafe Muzik, Bar Lacucaracha, Reza Forte, and many other places.
Who would you like to recommend from your scene?
"In Rio de Janeiro I recommend the DJ's Rodrigo Facchinetti (he has a very cool repertoire of Brazilian edits and remixes, as well as other House and Downtempo stuff), DJ Montano (Brasil deep), and Erik Scratch (Hip-hop and Turntablism, I consider my godfather in DJing ), DJ Pachu (Jedi Master of Hip-hop culture) and DJ Nepal (amazing House sets, for me the best). 
Here in Juiz de Fora, my hometown, I recommend DJ Kureb, incredible sessions of electronic music (Downtempo and House)."
If some of our listeners would visit Brazil (or Rio in particular) for the first time, what would be some of the places which they have to visit?
"From 2015 onwards, they started a craft fair, vinyl records, clothes… all this in a large square in the city and with DJs playing. The best I recommend is Carioquissima, it happens monthly in a beautiful place in the South Zone of Rio de Janeiro, I highly recommend it!! Selina Lapa has DJs playing from Thursday to Sunday and is located in a magical spot of carioca culture, Lapa.
There is also Casa da Gloria, run by my friend Marcelinho da Lua, which always has cool attractions."
Could you tell us a bit about your background as a DJ, record collector and seller? How did you get into it? What has changed over the years?
"My history with records goes back to when I was a little kid! My family always got together with friends and other relatives on weekends for a barbecue and there was always music on the turntables. I was responsible for changing the phonograph records when the music was over, that was back in 1980, 1981 when I was 4, 5 years old.
I worked in a video store for 14 years and the ambient music of the store was from a record player I bought in 1997, my first MK2 Technics 1200. At that time I received a lot of records as gifts, everyone wanted CDs and was throwing their Lps in the trash. .. From there I started my collection.
I started having parties with friends, nothing professional, then I started having these parties in bars and squares in the neighborhood and started to develop DJing techniques. In 2006 I decided to dedicate myself professionally. Due to the infinite amount of artists and songs I knew, I thought of putting some of these songs somewhere that everyone could listen to, that's when my YouTube channel came up in 2011."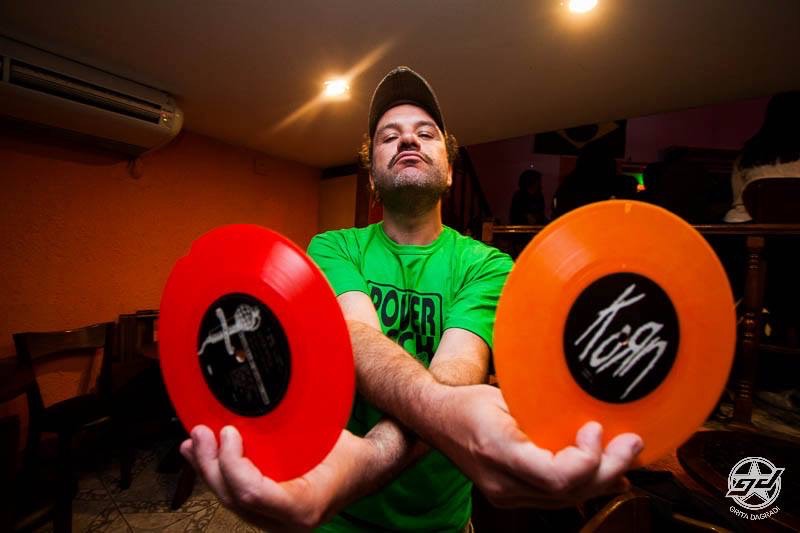 "When I started digging, always find a better copy or a cover in better condition. So after a while, I started to have 3, 4, or even 5 copies of the same records. I started selling double copies. As the copies were in good condition, I gained the trust of buyers from all over the world. The friendships that music brought me, with collectors from other places, are a great gift!
The consumption of these rare gems of Brazilian music increased and the records became more expensive and difficult to find, but "unpublished" records are still found. My records are separated by the record company, some are in the bedroom, others in the living room, and others in my mother's house in Rio de Janeiro."
How do you usually select your records?
"I select by genre for DJing, usually in compacts. I prefer to play with them!"
For people who are just getting into Brazilian music, which artists would you recommend to start looking into?
"Nowadays it's easier to search, there's a lot of good stuff out there to listen to, or todownload…
Start researching from 1959 with Jocy de Oliveira, Carolina Menezes, João Gilberto… I think the heyday of Brazilian music is between 1965 and 1975, amazing records were made at that time."
What record is always in your bag? And why is it so special to you?
"Gilberto Gil, in a collection of this immense artist you will find Boogie, Reggae, Afro grooves, Funk… that will definitely please the dancefloor. I don't think I play for myself. I learned that that rare record I find with that cool song might not "work well" on the dance floor, so I prefer to play for the public at the party. Playing songs that they can sing along to, songs that reminds them of good stories and good feelings!"
Who is or would be your favorite DJ to do a b2b with?
"David Cuasito AKA DJ D-styles just for a scratch session!
I love Turntablism and spending a few moments sharing the cuts with "D" would be amazing!
Maybe one day…"
Could you tell us about the mix you have made for us?
"In the week that my friend Bobby asked about the possibility of preparing a mix, I found a very curious single when digging. He narrates a little about Brazil and talks about Bahia, its religious traditions, typical foods, etc… all in English. The Golden Boys version of "Eu Bebo Sim" is hot, love this version! I thought it would be cool to build a session from the stories told on the compact adding a variety of songs.
Hope you like it 🙂"
Any last words?
"I want to thank Bobby for the connection and also everyone who took the time to read this interview and listen to the session, thank you very much!"
Tracklist:
Vinheta intro + Mestre Suassuna e Dirceu – Íuna
Vinheta – Saveiros
Nana Caymmi – Saveiros
Vinheta – Literatura de Cordel
Jorge Ben – O Sabor Poético da Literatura de Cordel
Vinheta – Capoeira
Eduardo araujo e Silvinha – Capoeira
Vinheta Candomblé
Os Tincoãs – Na Beira do Mar
Vinheta – Quilombo
Clementina de Jesus – Quilombo de Dumba
Vinheta – Azeite de Dende
Gal Costa – Vatapa
Vinheta – Acarajé
Vinheta – Abará
Vinheta – Vatapá
Gal Costa – A Preta do Acarajé
Vinheta – Moqueca
Nei Lopes – A Moqueca de Idalina
Vinheta – Cachaça
Golden Boys – Eu Bebo Sim
Vinheta – Jangadeiro
Vinheta – Paturi
Vinheta – Peba
Vinheta – Caatinga
Titane – Caatinga Vista da Lua
Vinheta – Rendeira
Meirelles e Sua Orquestra – Rendeira
Vinheta – Batida
Aroldo Santos – Batida de Limão
Vinheta – Mamulengo
Vinheta – Fandango
Vinheta – Bumba Meu Boi